Just a few nuggets of joy. Here's Joan Blondell, Barbara Stanwyck, and Ben Lyon in
Night Nurse
. Lyon is happy because the nice nurses have agreed not to report his bullet wound to the police. Yay! What was kind of surprising was that quite a lot of blood was shown on his hand and shirt. I wonder if they had rules against too much gore.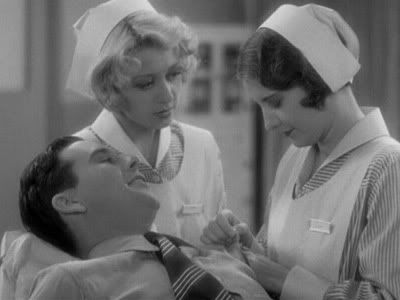 Fun Fact: James Cagney was considered for Lyon's role (he would've been adorable in it), but after Cagney's success in
The Public Enemy
, the studio didn't think that he should be relegated to supporting roles anymore.
Now, two more from
Lady Killer
, starring Cagney and Mae Clarke. These could almost be deemed not safe for work. Gasp!
James Cagney loves Mae Clarke.
James Cagney loves Mae Clarke not.